PROVEN SINGLE-PLY SOLUTIONS
Petrol and diesel tanks benefiting from our know-how
Not all programs require the benefits of our HyPe® solution, so we offer proven single-ply solutions for conventional tanks that meet all the requirements of current and future fuel systems.
We use a single-layer technique validated Euro6 and reaching the new Euro7 standard. This is used on vehicles currently running.
PEHD single-layer benefiting from our know-how to optimize its design, its weight and therefore its cost.
RM Technologies benefits :
– Development cost gain
– Process gain (use of single-ply blowers)
– Weight gain
– Increased global competitiveness
– Ease of recycling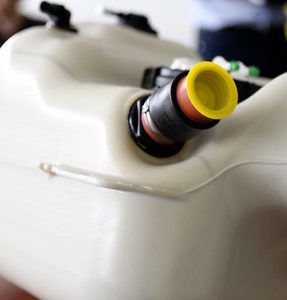 RMT GROUP, A GLOBAL EXPERTISE
A subsidiary of the RMT Group, RM Technologies is an integral part of a diverse set of skills and resources to support you in your projects at all levels.